118 Industrial Park
Ebensburg, PA
15931
Phone
(814) 472-4510
Fax
(814) 472-4545
"Small differences in ability can translate into enormous differences in results." — The Winning Edge Concept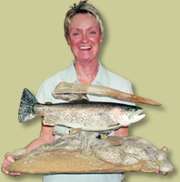 At the Pennsylvania

Institute of Taxidermy,

we've left

nothing out

and left nothing

to chance.

The bottom line

— We want

you to succeed! Our

success depends on

having successful

students. Here's

what our

students

are saying about

us...
"The Pennsylvania Institute of Taxidermy is a school that cares about taxidermy and cares about having students that are successful. " — John Stone
"I can honestly say that the Pennsylvania Institute is the best school you could go to, to start out your career in taxidermy." — Jeff Apple
"The Pennsylvania Institute of Taxidermy is the necessary building block to a good taxidermy career." — Shawn Lamparter
"Quality learning, in a reasonable amount of time, and great fundamentals." — Dan Martinell
"The Pennsylvania Institute of Taxidermy has been a life-changing event for me." — Cinnamon Bair
"I honestly feel that it's the best school there is! Not just because I went there, I've meet people at conventions and seminars that went to other schools and they don't stack up!" — Butch Niedlinger
"Nothing more rewarding than finishing a piece, standing back looking at your work, and saying… Wow!" — Shawn Lamparter
"You will be in the top 10% of the taxidermists right out of school." — Paul Walsh
"Dan can pick out the small details that we can't see and I like that." — Nick Starner
"Your mounts are going to look super." — Paul Walsh

In addition to the taxidermy course, some of our past students tell us that the business course was the most important part.
"So much work and so much money out there."
"The school brought out a lot of things that helped in all business phases."
— Dan Martinell
"It's a solid foundation for what's to come."— Shawn Lamparter
"Without it I wouldn't be doing what I'm doing." — Jeff Apple
"I have a good career and I'm happy with what I'm doing." — John Stone

Call us today for more information...
1-800 Grey Fox