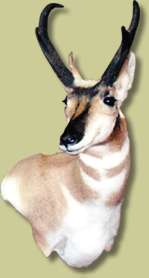 We are an accredited taxidermy school...What does that mean for you? Accreditation is your assurance that a school not only meets the requirements of the U.S. Department Of Education, but also the tough standards of a national accrediting body. It gives access for you to apply for student loans and grants, and the peace of mind that you will be receiving the most complete taxidermy education available.
(Accredited by the Accrediting Commission of Career Schools and Colleges.)
Pell Grant
This is a federal grant that is available to students from low to moderate income families. Grant does not have to be repaid.
Student Loan (Stafford Loan)
Carries a variable interest rate. Repayment beginning 6 months after the last date of attendance. Household income and assets, along with other financial information, are considered to determine your eligibility.
Parent Loan for Undergraduate Student (PLUS)
This loan is for parents of dependent students. Eligibility relies on the parent having good credit and ability to repay. It carries a variable interest rate with repayment beginning within 30 days of second disbursement. When this loan is the sole source of financial assistance, the maximum loan amount is the cost of education. If eligible for other financial aid, then you may apply for the cost of your education minus the cost of all other financial aid.
Unsubsidized Stafford Student Loan
This loan is for independent and dependent students, and students whose parents/guardians do not receive PLUS Loan approval. It also carries a variable interest rate but has two repayment options:
• (1) No payment while in school letting interest accrue and capitalize. Repayment begins within 6 months after the last date of attendance. Or…
• (2) Pay interest while attending and through grace period, and then begin regular payments within 6 months of the last date of attendance.
Financial aid available for those who qualify.